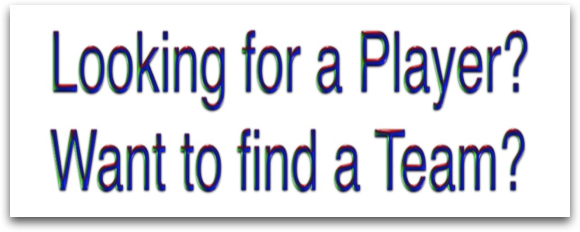 Managers seeking players can look
at the list of available players below.

If you sign a player from the list,
click here to send the info
or call the hotline at 478-8040.

Players looking for a team
click here to email their info
(co-ed, men's or women's league, position, level of play, etc.)



Married professional male seeks
easygoing and fun co-ed partners
for 6 weeks of easy fun.
No long term commitment necessary.

I: Enjoy running bases at dusk
in the cool autumn evening.
I'm good at pitching, better at catching.
I would like to spend time at second base.

You: Need a reliable team member
and someone who will bring cookies.

Email me

<- Posted on 09.05.2015 ->





Hi!

My name is Maranda.
I am 33 and I live in Grass Valley.
I'd like to play softball.

I don't know anything about the game
and I don't have any experience.

I realize that this information is not appealing
to teams that are looking for players.
However, I am dedicated and
very excited to learn and have fun.

I will be a positive addition to any team.

Thank you!

-Maranda

email me

<- Posted on 08.19.2015 ->





Hi,

My name is Darsi
and I am looking to play on the women's league.

I played in this league several years ago,
for many, many years.
I moved away and now am back in Nevada County
and would like to play again.

I played 3rd base and shortstop.
I am a little rusty and am willing to play any position.
I love to play softball and have played
pretty much all my life.

I have played fast pitch, women's league and co-ed.

Thank you,
Darsi

C: 530-488-0549
H: 530-205-9501


<- Posted on 08.04.2015 ->





My name is Joel,
I am 34 yrs old & looking for
a position on co-ed or men's league.

I have played one season in RF men's league in the bay area.

I would be willing to try out for any position available
& give the team all I got.

Just want to play ball!

(530) 392-6042

Thanks!


<- Posted on 07.27.2015 ->





My name is Dylan.

I am looking to play for a
men's slo-pitch softball league.

I played ball my whole life in Woodland.
All star catcher my whole life.
Played ball for Woodland High School as well.

I played softball in a men's D league in Woodland
for about 4 yrs, then played C league softball
at the Sac Sports Complex for 7 seasons.

I played 3rd and 1st base primarily
but can rotate in or out wherever needed.
I am a solid directional hitter
and a solid defensive player.

I understand and respect the
meaning of a team and play as a team.

I just moved out here from Sac
and don't know anybody out here that plays
so I hope this email reaches someone looking
for an all around good baller and team player.

Please contact me at
530 263 8484

Thank you


<- Posted on 06.02.2015 ->




Hi

My name is Andrew,
looking for a team, co-ed or mens

Getting off school this week
and wanting some playing time

I play outfield when I get a chance to play
Please give me a chance to play

530.388.6336

<- Posted on 05.20.2015 ->


Hi!

My name is Lev

I've played played baseball
my whole life up until last year.

I've never played softball
but I can work hard to get the hang of it.

I'm a very good hitter, make solid contact consistently
and can hit for some of power.

I can play any position except pitcher and catcher
but my best positions are second base and third base.

I'm 17 years old and I'm in great shape
and I'm easy going and hardworking.

Email me

<- Posted on 05.20.2015 ->



My name is John Van Dyk or JVD

I have played 3 year of softball
with 2 different teams in Grass Valley.
I played a couple years of softball out of town.

I am a catcher and can play some in field.
Looking for a team to play on give me a call

530-575-2682

Thanks!!!

<- Posted on 04.14.2015 ->



Hello
my name is Will.

I recently moved to the area
and was looking for a men's team to play with.

I work in downtown Grass Valley.

I'm 32, bat right, throw right.
I've been playing hardball for the last couple of years
pitching mostly, but used to play softball 3-4 nights a week
2-3 games a night and play tournaments on the weekend.

Mostly SS and LC/RC,
but happy to play anywhere the team needs me.

Happy to try out if I need to.

(415) 412-0472.

Thank you for looking.

<- Posted on 03.31.2015 ->



Hello

Name is Richard.
Moved up to Auburn recently.
Looking for a team to play with . . . co-ed, mens.

I'm a pretty good pitcher. It's my forte.
I also play 1st and outfield.

I played a lot of seasonal ball and tournament
plus big league dreams ball back home.

Also, if anybody that can't find a team
and wants to build a team co-ed or men's,
I'm here and will help out.

So email me
I'm ready to play!

<- Posted on 03.27.2015 ->



I'm new to Nevada City and looking for a softball team.

Looking to play in the Sunday afternoon 50 and over league.

I can play outfield, 3rd base, or 1st base.

Can hit for power.

Steve

Email Me

<- Posted on 02.22.2015 ->



I am interested in finding a team to play on.
I have not played in a few years
so my playing level is moderate.

I played mostly outfield.
I prefer women's team but will play co-ed.

Thank you

Cindy Wick

Email Me

<- Posted on 02.14.2015 ->



My name is Jeff.

Played softball back in the military.
It has been a while since I have played
on a regular basis but I am willing
to work hard to get back to speed.

I bring enthusiasm, skill and NO DRAMA!!

Looking forward to having fun,
meeting new friends and winning!!

Email Me

<- Posted on 02.14.2015 ->



Hi

I'm 23. Live in Grass Valley.
Looking to be in a co-ed team.

I'm great at hitting
and I used to play for my work here in Grass Valley.

Would love to find a team to play on again.

You can text me at 530-401-6898.

My name is Mich.

<- Posted on 02.14.2015 ->


Looking for a Men's team.

I've played softball for the last 10 years
in GV, Auburn, Folsom leagues
and a few tournaments.

I can play anywhere, infield, outfield and pitch.
I show up ready to play and have fun.
Let me know.

Thanks,
Alex

Email Me


<- Posted on 02.14.2015 ->